Welcome Convocation Spring 2019: New Semester, New Opportunities!
Category : [2019]
|
Writer : SolBridge
|
Date :
2019.03.05
|
Hit : 5,060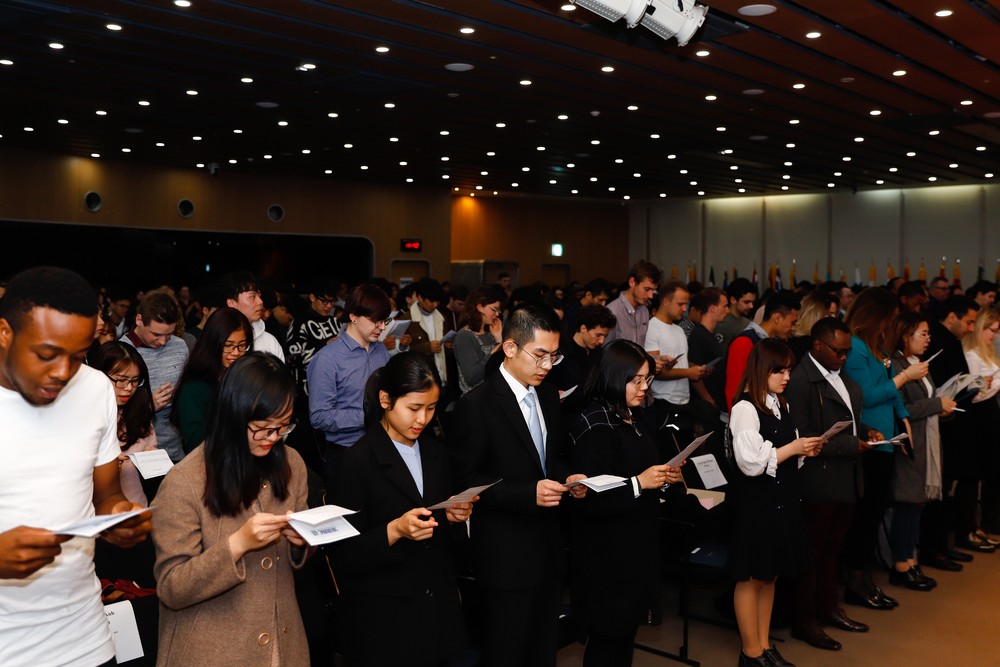 Monday, March 4th, 2019 marked the beginning of the spring 2019 semester with our Welcome Convocation ceremony. This semester SolBridge welcomes 285 students from 38 countries enriching our student on campus representation to 67 nationalities. SolBridge is excited to enhance its student community by embracing students from Czech Republic, Peru, Ukraine, Greece, Slovakia, Mexico, Thailand, and Azerbaijan either for the first time or the first time in a while. This semester also marks the beginning of our new one year MBA and MS in Marketing Analytics Programs.
During the Ceremony, both Dr. Endicott, President of Woosong University and the Acting Dean at SolBridge and Dr. Sung-Kyung Kim, Chairman of the Woosong Education Foundation, welcomed new students and faculty to the SolBridge community. They encouraged students to embrace diversity, focus on the similarities and not the differences and take advantage of the unparalleled opportunities of meeting and making friends with people from 67 countries.
While sharing his welcome remarks, Dr. Endicott highlighted some of SolBridge recent achievements including the AACSB re-accreditation for the next five years, SolBridge holding the 3rd best job placement record for business schools in Korea, and the recent win by the SolBridge Debate Society in the Pan Pacific championships in Honolulu. He continued by reaffirming SolBridge commitment to bringing cutting edge education and opportunities to all the students at SolBridge, encouraging students to hone their soft skills needed in this competitive world of the fourth industrial revolution by participating in the different activities and clubs offered at SolBridge. He asked students to "Take advantage of these opportunities to expand your world whether here at SolBridge or through the different outreach programs that we provide."
The conclusion of the ceremony was marked by 15 first-year students receiving Woosong Education Foundation scholarships in recognition of their previous academic achievements.
Congratulations to all freshman upon joining SolBridge and we wish everyone a tremendous SolBridge experience!