Elaine Yuki Salim: BBA Valedictorian Class of Spring 2022
Category :
|
Writer : SolBridge
|
Date :
2022.06.29
|
Hit : 329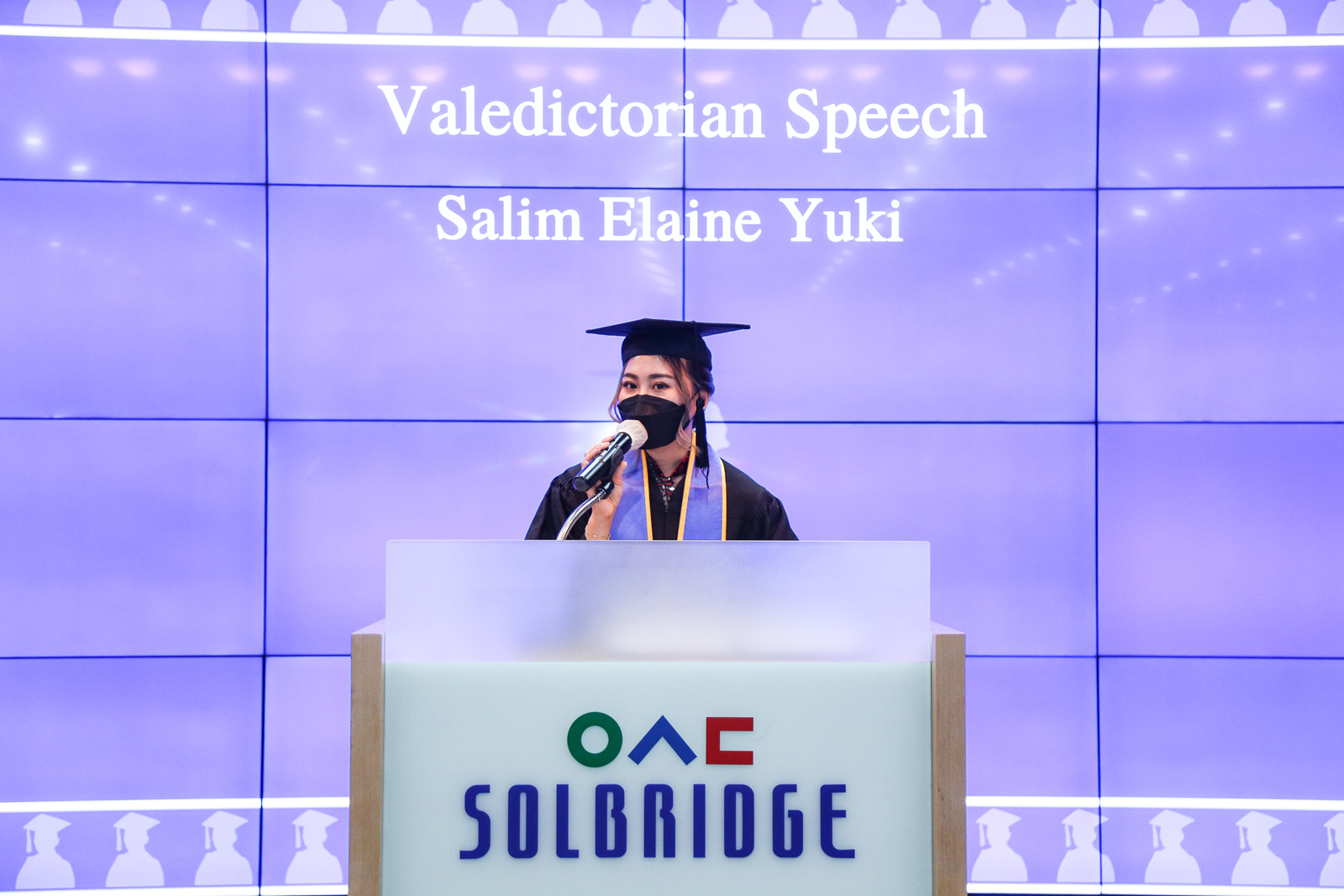 Elaine Yuki Salim from Indonesia was the BBA Valedictorian for the Spring 2022 graduating class. Here are her graduating remarks;
"Good morning, everyone! To our dear Founder Kim, Chairman Lee, President Oh, Dean Park, all respected professors and faculty members here at SolBridge, my family and friends, and all my fellow BBA graduates from the class of 2022! It's truly an honor to stand here today and deliver my speech on behalf of all graduating BBA students from the class of 2022.
Before I commence my speech, I would like to thank my parents for their unconditional support throughout my life until now. I am grateful that my mom managed to travel from Indonesia to attend my graduation today. Thanks to my professors for the constant encouragement for me to achieve greater things and for the positive impacts you have brought to my life. Also, to my close friends here, thanks for being my strong supporters for the last four years and for the unforgettable memories we shared.
Today is the day that we have to congratulate ourselves for our success in surpassing all the hardships in this chapter. We all went through so many sleepless nights working hard for our assignments and research papers, studying for exams, and many more things that led to where we are now. Now is the time for all of us to open a new life phase and work towards achieving the next goals that we set our minds on. I am confident that everyone here will have a bright future ahead as long as we keep learning and have perseverance in whatever paths we choose to follow.
As we all remember, the global pandemic since early 2020 has created unprecedented changes in our day-to-day and university life. Classes at SolBridge have shifted from offline to online, and social distancing measures have limited our opportunities to gather face-to-face with our friends. However, thanks to SolBridge professors, the administrative staff's efforts in delivering the best online lectures, and students' willingness to adapt to new learning styles, we managed to overcome some of the limitations. Now, things have started to slowly return back to normal, I am also very convinced that things will get much better.
The valuable things I learned from my four years of undergraduate study at SolBridge are embracing diversity and cultural differences. Here, we had the opportunity to interact with many international friends from diverse cultural backgrounds, allowing us to cultivate intercultural understanding and awareness. And that is a crucial skill to possess in the 21st century. Not only that, but the precious chance to learn an additional foreign language is also a competency of every student here, as multilingual skills are a remarkable asset.
Finally, to all my friends here, thanks for being a special part of my SolBridge adventure. Without you guys, I will never have learned and grown into the person I am today. Starting from now, we will embark on a new journey towards our next life stage. Ahead of us will not be any easier; it will certainly be filled with many new prospects and adversities that we have yet to face. But in whatever circumstances, we must remember to stay positive and keep learning and growing. Also, remember to keep in touch with one another and show your best to the world as SolBridge alumni. Thank you, everyone! We should be proud! And congratulations to everyone here for graduating! God bless you all!"