Special Lecture: "Self-Leadership and Personal Branding"
Category : [2015]
|
Writer : SolBridge
|
Date :
2015.05.18
|
Hit : 20,334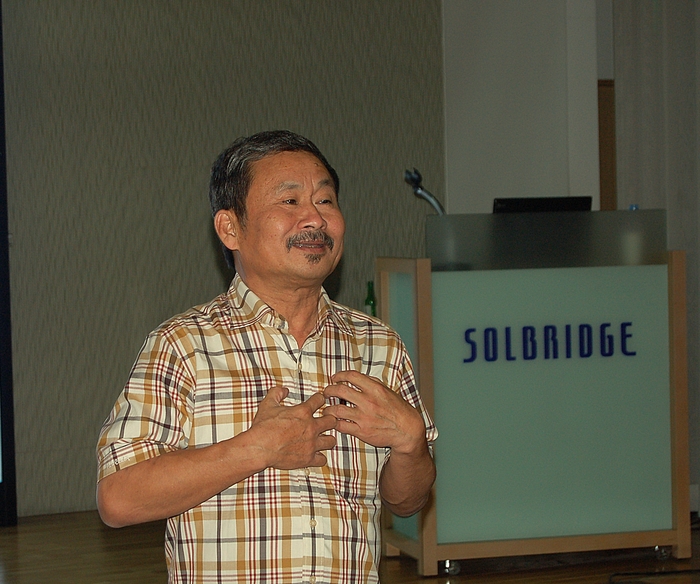 One of the things that students at SolBridge hear a lot about from the very first time they set foot in school is the need to work on one's "soft skills." Whether it's learning a third or even fourth language or improving one's presentation and writing skills, students who study at SolBridge gain a competitive edge through the soft skills they develop by the time they graduate.
The importance of these soft skills was the theme of a special lecture, presented by Dr. Phan Quoc Viet, the Founder and President of Tam Viet Group and the Vice President of the Vietnam Association of Business Culture. Viet is one of Vietnam's leading consultants, trainers, and speakers on the future of leadership, people skills, change, and organizational effectiveness. He is also an author, a popular guest on various TV shows and a visiting lecturer at many universities in Vietnam.
During his lively and energetic presentation, Viet explained the function of leadership and the need for personal branding which resonated strongly with the students in attendance. He talked about "life defining mechanisms" such as one's mindset and habits and the influence they have on our lives.
"Mindset and habit dominate our lives," Viet said. "If you don't have your habits you will be dominated by other habits."
He explained that the "outside dominating consciousness" is like an iceberg; it's the inside dominating consciousness which we need to cultivate and nurture.
Viet also stressed the need to focus on what is good and not what is bad if one is to improve one's self.
"You need to focus on one thing and forget about other things," he said. "Focus on the good and not the bad."
Finally, if one wants to be successful, one has to be "smarter" which he broke down into the following attributes and characteristics: Specific+Measurable+Achievable+Result Oriented+Time Bound+Exciting Execution+Rewarding Review=SMARTER. He explained how each of these work in order for a person to be successful and how these are part of a person's "personal branding."
"It's all about personal branding," Viet said. "It's what it all comes down to