2019 SolBridge Startup Business Plan Competition
Category : [2019]
|
Writer : SolBridge
|
Date :
2019.12.06
|
Hit : 28,790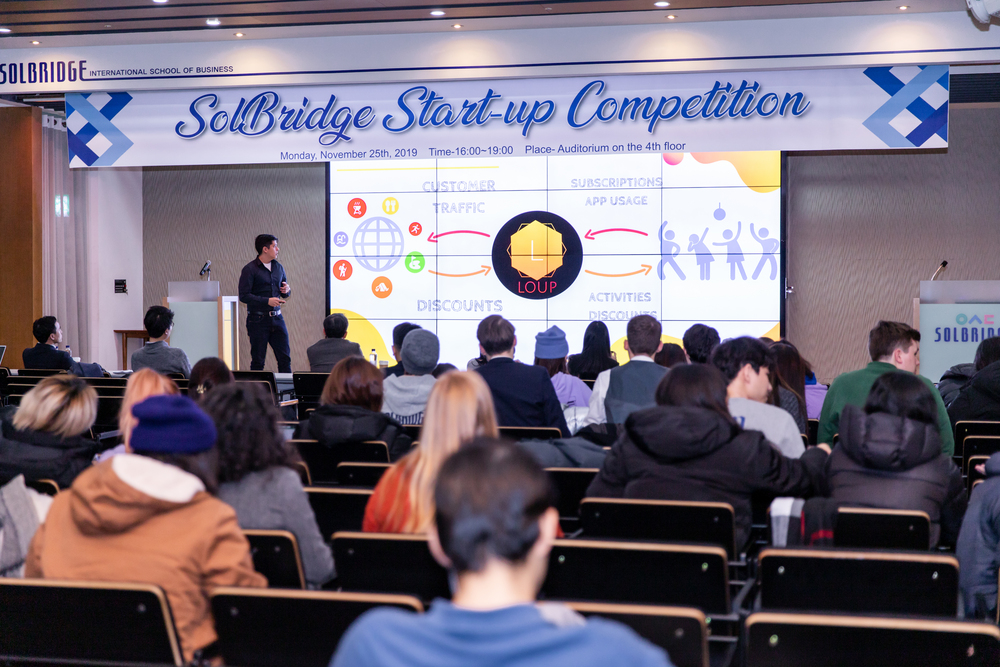 To cultivate the entrepreneurial spirit at SolBridge, SolBridge Startup Club (UniSol) in collaboration with Professor Jinseob Oh organised this year's Startup Business Plan Competition. The competition gathered a total of 15 teams; 10 from 'Understanding Startups Business Class' and five teams from UniSol. Participants presented their ideas to a panel of judges comprising of SolBridge professors and industry representatives including; Mr. Yungjae Lee, Solaire Investment Inc., Mr. Hyojung Song, CKD Investment Inc. and Mr. Kyunguk No, Sulim Investment Inc.
After deliberation from the judges, six teams emerged as winners for their startup ideas. "Tanigo" a platform dedicated to facilitating Indonesian farmers' and investors' need through investing and profit-sharing received the first prize and seed money of KRW 900,000. Two teams came in second and received KRW 500,000 each; 'Travel with Locals' a platform that connects travelers with local guides to explore hidden places and experience traditional cultures and 'Feel Secure' a solution that acts as your bodyguard by providing information on safe streets and sourcing support from the neighbors.
In third place with KRW 200, 000 were three teams: 'Plan It Yourself' a solution that provides LED planting platform for young students to grow their plants as a means to sustainable planting. 'Wake You Up' and YPPO Down Syndrome Care an AI-based bear to speed up the learning process.
Congratulations to the winners!