Pathways, Patterns, and Options: My Journey
Category : [2013]
|
Writer : 관리자
|
Date :
2014.10.23
|
Hit : 63,107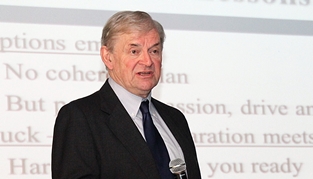 Succeeding in today's competitive business world sometimes requires a little luck, but it's more than just being "lucky."
---
"Luck is where preparation meets opportunity," said Dr. Howard Thomas, Dean of the Lee Kong Chian School of Business, Singapore Management University. "That's a better definition and you are more likely to succeed."
Thomas, who has spent more than half his life as a dean and academic administrator has also had a global and eclectic academic career career which has been focused on management education. Originally from Wales, his distinguished career has taken him around the world.
"I've been very lucky in my life spent a lot of time on applied work a lot of work with sampling a mix of theory and practice," he said. "There's been a constant linkage between theory and practice."
During his lively and informative lecture, Dr. Thomas touched base on four main themes in his life:
the evolution of an academic career, the inevitable transition to academic scholarship, the unexpected and unplanned transition to academia, and the unexpected evolution into series of leadership roles in professional and business institutions. What was most interesting about his lecture were the anecdotes and insights he shared with each of these themes.
One of the things he stressed during his lecture was how much of his career had not been planned. Although he stopped short of saying, "being in the right place at the right time" he made it clear that when opportunities were presented to him, "he took advantage of the challenges."
"You do not plan careers," he said. "They happen."
On the other hand, he pointed out that although his academic leadership was unplanned, managing people has come natural to him.
He talked a little about leadership and how it improves with the diversity of experience. Moreover, he stressed that leadership involves authenticity, honesty, and integrity.
"Don't pretend to be someone else," he said.
He also had some advice for SolBridge students.
"You must have passion and enthusiasm. You must have 'a fire in your belly' as we say in Welsh," he said. "When interesting challenges emerge, think about them many times before you say no. Learn through failures as well as successes."