Summers are Busy at SolBridge
Category : [2014]
|
Writer : 관리자
|
Date :
2014.07.24
|
Hit : 21,264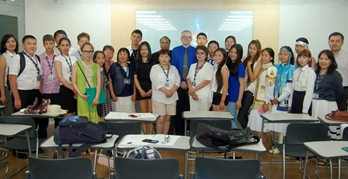 Summers are a busy time at SolBridge. In addition to students taking various summer courses so they can graduate early—to get a jump on finding jobs compared to other students—summers are also quite busy with various camps and immersion programs for students from around the world.
---
From July 4-11, 2014 SolBridge hosted 57 high school students from Kazakhstan and Russia who participated in International Linguistic Camp and International Young Scientists Conference respectively. Participants from Kazakhstan were introduced to Korean Innovation, Culture and language and most importantly learnt about unique English techniques, while students from Russia presented their scientific papers to their classmates and were judged by SolBridge professors. The competition for the top awards was tough, but all those who participated were winners.
Our thanks to the organizers of these two events and best wishes to all those who participated.