SolBridge will be hosting its 8th International Business Plan Competition (IBPC) from 16th – 20th November 2020
Category : [2020]
|
Writer : SolBridge
|
Date :
2020.11.10
|
Hit : 17,192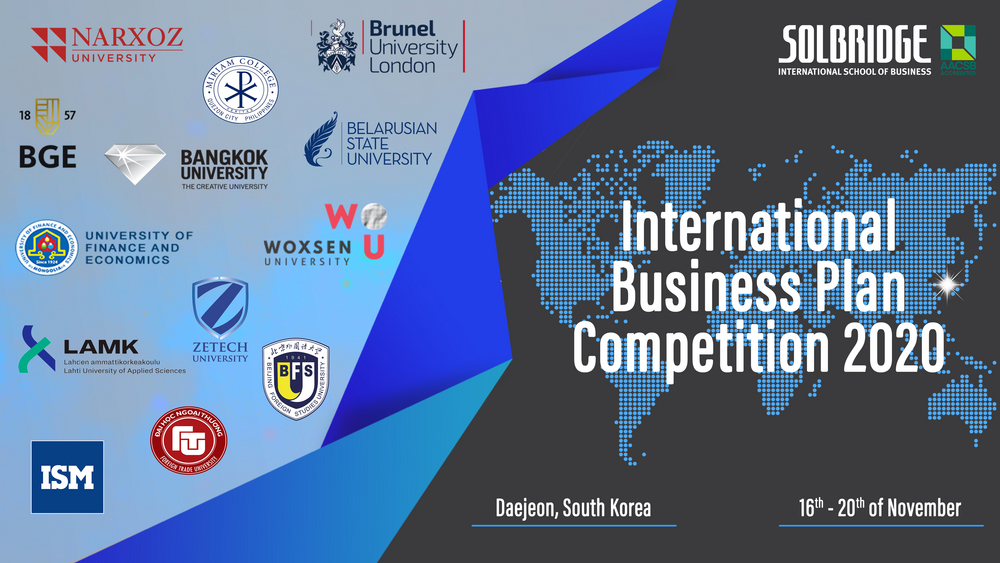 Participants will solve a real business problem on the theme "Virtual Assistants and the Voice Era," focusing on the Bixby virtual assistant developed by Samsung Electronics.
A representative from the Samsung Headquarters will officially deliver the case to the participating teams and share insights about the voice assistant landscape and current trends. Qualifying teams from the preliminary rounds will make final presentations in front of a panel of judges comprising of SolBridge professors and industry representatives to identify the winners.
IBPC is growing every year, attracting new universities from different countries. This year's event will take place online, with a total of 16 (13 overseas) teams representing 22 nationalities. Participants will test their problem-solving ability, business and cultural insights, and communication skills in a virtual setting.
The list of participating universities in this competition includes;
Bangkok University, Thailand

Beijing Foreign University, China

Belarusian State University, Belarus

Brunel University, United Kingdom

Foreign Trade University, Vietnam

ISM University, Lithuania

Lahti University of Applied Sciences, Finland

Miriam College, Philippines

Narxoz University, Kazakhstan

SolBridge International School of Business, South Korea

University of Finance and Economics, Mongolia
Visit our YouTube channel for introductions of the participating team