SolBridge Entrepreneurs Making Big Differences With Small Actions Working With Kiva.org
Category : [2012]
|
Writer : 관리자
|
Date :
2012.01.20
|
Hit : 79,516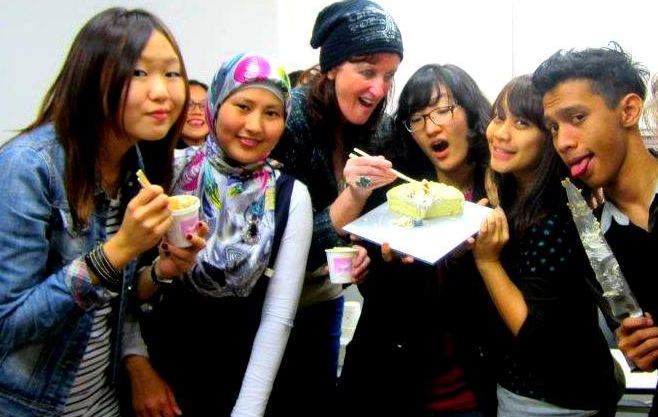 Small change can make big differences and through the simple gesture of donating the small change in their pockets, SolBridge students have engaged in active social entrepreneurship: supporting needy entrepreneurs in emerging economies around the world.
---
The "Support Needy Entrepreneurs" project began through a Skype conference call between students at SolBridge, two sister classes studying the same topic of social entrepreneurship at Binus University in Jakarta, Indonesia and a representative of Kiva.org, Mr. JD Bergeron from San Francisco, California, USA. With an audience exceeding more than a 100 students representing 20 nationalities, Mr. Bergeron presented the story of how KIVA was founded by two college students, and how the concepts of microfinance and microcredit that are the foundations of the business mode, are now active in more than 60 countries.
During the Fall capstone week when a variety of entrepreneurial events are held around the SolBridge campus, a small team of students initiated a fund drive to collect contributions that were destined as loans through the KIVA network. A Facebook page has been set up as a contact point, (http://www.facebook.com/#!/pages/Support-for-Needy-Entrepreneurs/259905167392136) and members of the team gave in-class presentations and conducted online media marketing to bring awareness and generate support for their project.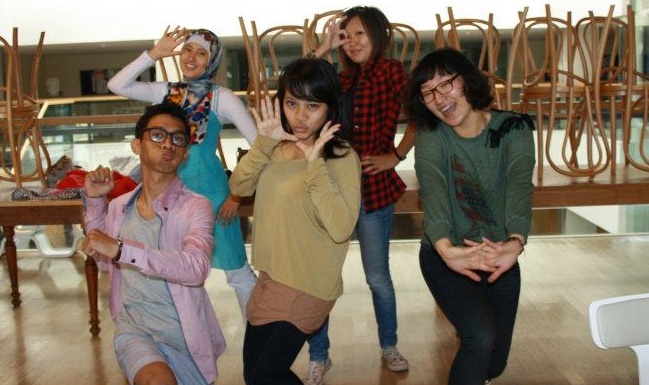 With an early financial goal being exceeded quickly, the team identified recipients based on their stories and assessments of need, then divided the final contribution amount as 4 loans of $100 each. The recipients of these loans come from economically challenged regions the Philippines, Mongolia, Georgia and Pakistan. Inspiration for selecting these particular entrepreneurs came from within the SolBridge class and classmates who also come from the same countries and regions.
You might think that this it the end of the story right?.........
It is really only the beginning…………
Through frequent updates to the Facebook page, all entrepreneurs from SolBridge can follow the developing stories of these new friends and entrepreneurs. Anyone can create similar relationships through a very simple process outlined on the KIVA website: you make a loan to an entrepreneur, the loan is repaid and the money becomes available again to be allocated as another loan or part of a loan when bundled with other supporters of KIVA for the same entrepreneur. In many cases, these financing relationships and repayment schedules can extend over a year. What this relationship with KIVA has done is create a new awareness of how learning can continue outside of the classroom, in a very personal context.
As one team member from SolBridge explained: "What I have learned from this experience is we can spend less time dreaming, more time doing! In Korea, even though people are just learning about making donations and creating a social impact, there is evidence that more people are becoming more involved in these social based situations. There are social funding programs that people donate small amounts of money to that can make a specific project successful. The KIVA activity is one of the projects which we make action real and these small steps will create big changes. And I am thrilled to see the social entrepreneurship movement now, especially at SolBridge."
For more information about KIVA, check out their website at www.kiva.org
Click here to watch the video about KIVA
If you are inspired and want to get involved with the SolBridge team, then they would enjoy receiving a message from you on their Facebook page. As many classmates have expressed privately about this type of project, they are motivated to act on their beliefs and that that there is true feeling and genuine understanding when a real person is involved at the end of contributing this money: giving small change really can make a big difference to others around you.
It is the poster for the KIVA program below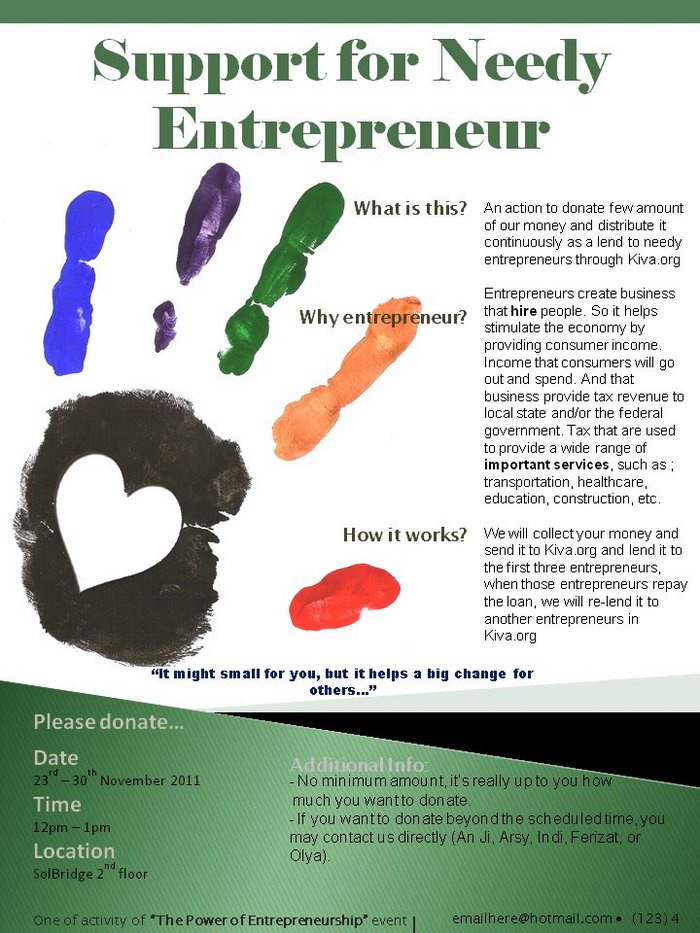 It is the record of SolBridge's loans below