SolBridge Hosts MBA Immersion Program and Linguistics Camp
Category : [2014]
|
Writer : 관리자
|
Date :
2014.08.26
|
Hit : 44,445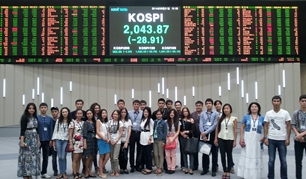 Keeping in tandem with SolBridge's mission to educate the next generation of Asian thought leaders, SolBridge, in conjunction with the Global Center, hosted two special programs for students from Kazakhstan:
---
Business Program for MBA students of National Bank of Kazakhstan
August 18-25, 2014
During the one-week immersion program at SolBridge, MBA students attended seminars on "Mechanism and Settlements of Bank Loans Securitization" and visited the Korea Stock Exchange and Korean Council for Investor Education as well as trips to Seoul and Busan.
Linguistic Camp
August 23-29, 2014
Twenty-two high school students from renowned high-schools in Kazakhstan visited SolBridge for one week to learn about the English Language techniques and innovative methods of learning the language. Along with the lectures students will have a chance to visit Korean famous sights such as Kyongbok Palace, Myong-dong shopping district in Seoul, Lotte World in Seoul, the Daejeon Science Museum, Currency Museum and Korea's number one IT and Innovation Institute, ETRI.