The SolBridge Debate Society Shines Again
Category : [2014]
|
Writer : 관리자
|
Date :
2014.07.09
|
Hit : 24,203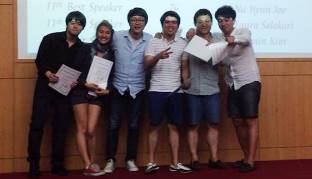 On the last weekend of June, members of the SolBridge Debate Society (SDS) attended the SNUDA IV Debating Tournament which was hosted by the Seoul National University Debate Association. And once again, the SolBridge Debate Society had an excellent showing while competing with some of the best debaters in East Asia.
---
This was a "open" tournament that encouraged mixed teams and imposed no restrictions on the qualifications of participants held in the British Parliamentary style. As it was an open tournament, SNUDA IV featured several retired champions as well as professors and coaches from around Korea. The following six members of SDS attended the tournament as debaters or judges: Jaedong Jeong, Seungmin Jo, Jiwoo Kim, Andre Vasconcelos, Yuwon Kim, and Mirella Oliveira.
Jaedong Jeong teamed up with a debater from Yonsei Underwood Union in a reunion of the team that won the Hong Kong Debate Open last year, Seungmin Jo teamed up with a British debater who is now teaching in Korea, Jiwoo Kim teamed up with a debater from Sungkyunkwan University, while Andre Vasconcelos and Yuwon Kim teamed up together to form our only full SDS team. Mirella Oliveira had the honor of being employed as a "chair-level" judge at the tournament.
After five preliminary rounds, Jaedong's team "broke" into the elimination rounds as the 2nd overall ranked team. After having a bye in the pre-semifinal round as a result of their high team ranking, they competed in the semifinals, defeating Korea University and a Seoul National University/Hanyang University composite team to reach the Grand Final.
In the Grand Final, they faced the following three composite teams: 1) former champion of Northeast Asian Open and a professor from ChungAng University, 2) a graduate of Shanghai International Studies University and a professor from Ewha Womans University, 3) debaters from Sogang University and Ewha Womans University. Despite putting up an inspiring performance that led most members of the audience to believe that our team had won the championship, we fell just short, losing out to the Sogang/Ewha team.
While it was disappointing to not to bring home another championship in our fourth Grand Final appearance of 2014, the second place finish was still an excellent showing that proved SDS belongs squarely in the middle of any discussions involving which are the best debate societies in the East Asian region. Jaedong Jeong also added to his reputation as one of the top debaters in Asia by being named the 6th Best Speaker in the tournament. Furthermore, all of our participants put up an excellent showing, despite falling just short of breaking.
Our congratulations again to the SolBridge Debate Society for another great effort!