Spring 2014 BBA Valedictory Speech – Lu Zhang
Category : [2014]
|
Writer : 관리자
|
Date :
2014.06.22
|
Hit : 22,007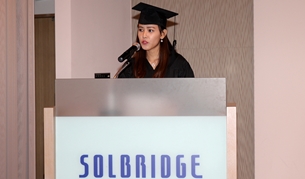 The following is the BBA Valedictory speech given by Lu Zhang:
Good morning:
Dear Chairman Sung Kyung Kim, President John Endicott, Vice presidents, Deans, Faculty members, Distinguished guests, friends and most importantly, today's graduates. Thank you for giving your time to attend this celebration.
---
I am so honored to give this speech here today on behalf of the BBA graduates. This is a memorable day both in our personal lives and in the life of this school.
First of all, I would like to offer my warmest congratulations to SolBridge becoming the youngest institution accredited by AACSB, and one of the top business schools around the world.
Secondly, I would like to thank all the faculty members. You have provided us with an excellent education, which has helped us achieve academic success. I would also like to warmly thank all our families and friends for what you have done for us, because without your support we wouldn't be here today.
For me, at this moment, graduation recalls the memory of my study and life in the past two years. I still remember the first day I came to Korea. It was August and the weather was extremely hot. I was rather hesitant and reluctant to walk into my dormitory with my heavy, bulky luggage. And at that time I was not sure coming to Korea was a good decision and was not sure if SolBridge was the University I expected and could offer me the best education that would enable me to be well-prepared for the outside world when I graduated. After I had studied here for one semester, I knew my answer for sure. I would say SolBridge is an outstanding university with a world-class curriculum. The professors, the academic environment and the extracurricular activities are all excellent. I began to enjoy every minute of my studies here. With the help and support from all my professors, I completed my undergraduate degree successfully.
I would like to thank Dr. Song for taking care of me like his daughter. He cares about each student's daily life, which makes us feel warm. I have never experienced such freedom and ease with my professors. In his Diversity class, we learned how to get along well with people from different backgrounds, how to overcome the stereotypes, prejudices and discrimination that sometimes happen in workplaces. These abilities really prepared us to become good leaders in the future in an increasingly globalized environment.
My special thanks also go to Dr. Kim, he told us that there are three kinds of people in an organization, Necessity, Commoner and Parasite. Everyone should try his or her best to be a necessity not only in their organization but also in society. I am the person who wants to be a necessity and I will definitely try my best to achieve it.
I would also like to express my appreciation to my mentor Mr. Jeffrey Miller, he helped me adapt to life in Korea, taught me presentation skills which are very crucial in many classes, and encouraged me to participate in competitions held in SolBridge. It is these experiences that make me feel confident standing here today.
The activities at SolBridge are also very special. They helped us to become the individuals we are today. Personally, I am sure that without these precious experiences my life would be somehow different. I would not have the opportunity to have a CEO mentor, who has a strong leadership ability that I can learn from. I would not have the opportunity to do the overseas market research in Indonesia, which greatly expanded my horizon. I would not have the same qualities of character such as determination, self-confidence, purposefulness and commitment. I can state this clearly: SolBridge helped me to become the person I am now.
Now we are standing on the entrance of the real adult life. And it will be somehow different for everyone. Some will continue their studies at the post-graduate level. Others will rush to apply their skills to become businessmen or businesswomen. Others may need time to think or go travelling. So my first piece of advice is not to hesitate to step over the threshold of the door that is already open for us. With the knowledge and friends we gained from SolBridge, we will overcome every obstacle that we may encounter in our lives. Secondly and most importantly, follow your inner voice and search hard for a job that you really like, and have persistence and faith.
Once again, I would like to offer my congratulations to the graduating class of 2014. Congratulations and good luck to all of you on your future! Thank you!