CEO Mentoring Session at Estee Lauder Companies, Seoul
Category : [2017]
|
Writer : Sharon Nabwire
|
Date :
2017.06.05
|
Hit : 26,049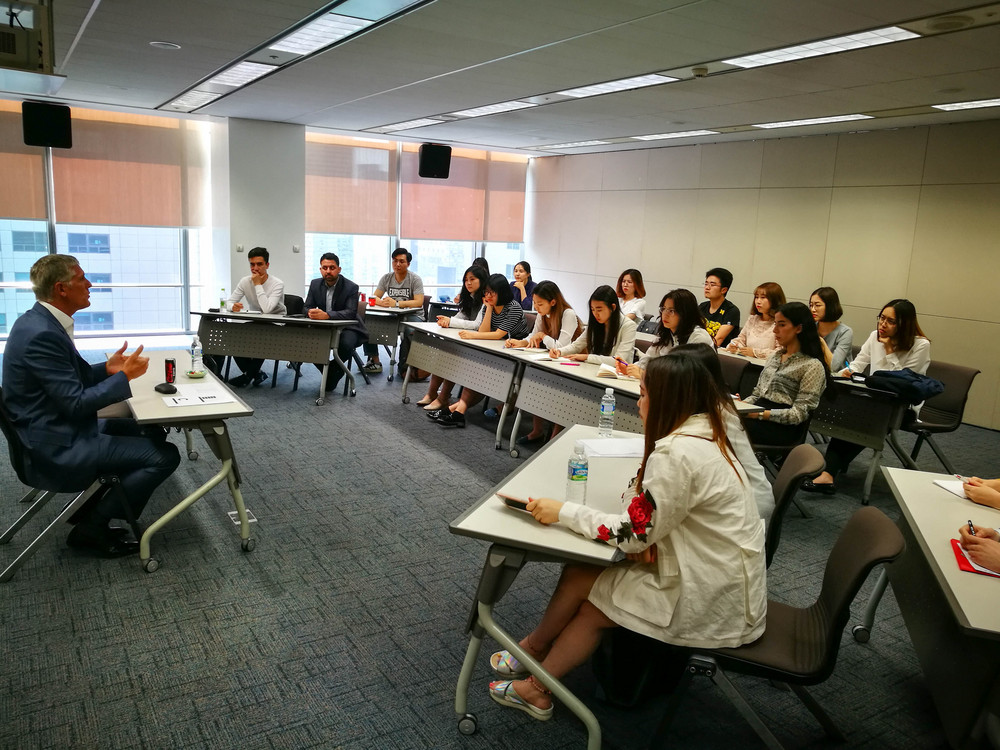 Last week, a group of 20 SolBridge students attended the CEO Mentoring session at Estée Lauder Companies in Seoul, Korea.
Students received valuable insights from Mr. Christopher K. Wood, the General Manager, The Estée Lauder Companies, Korea. He has over ten years of experience in Korea including his current position. In addition to the role of General Manager of the Korea affiliate, Mr. Wood also serves as the Senior Vice President of APAC SMI Value Realization of The Estée Lauder Companies. Mr. Wood leads to realize SMI values and innovations in Korea as well as the APAC region through his extensive international leadership and experience. He has vast international experience with records of accomplishments in Europe, North America, and Asia.
Mr. Wood shared his experience of working in an international environment and emphasized the importance of leadership and relationships in businesses.
Here is what the students had to say about the session;
"The CEO Mentoring program is perfect; I learned a lot from Christopher's lecture. It was very useful and helpful for my plans." - Xuan Hu
"Christopher's stories motivated me to think about what is important in business and how to behave in my future endeavors." - Soyeong Kang
"This mentoring session was very helpful to us as undergraduate students, we have learned a lot of interesting experiences and things which are beneficial in the future." – Natalia Petromanova
" I will be graduating next month, and I am grateful for the advice Mr. Wood gave us that we shouldn't be afraid to start from Zero and work towards gaining the experience." - Li Liu
"As business students, we acquired a lot of knowledge from Mr. Wood, that is essential before joining the workforce or starting a business." – Yang Qingyu
"The program was good and helpful for freshmen like me, I now have an idea of how companies work, what kind of employees and abilities companies need, which helps me be more focused while at school." - Zihan Luo
"There are so many important things to remember in his lecture: The 6Cs – curious, creative, committed, courageous, collaborative, and culturally intelligent, the need to figure out my talent, develop relationships and learn how to interact with people." – Soo Yeon Kim
"I would like to thank the CDC for organizing such an event; we learned a lot from Mr. Wood and his journey in life." – Samia Rifaoui