SolBridge Welcomes the Participants of Summer Immersion Program from Ciputra University, Surabaya, Indonesia
Category : [2014]
|
Writer : 관리자
|
Date :
2014.06.19
|
Hit : 21,052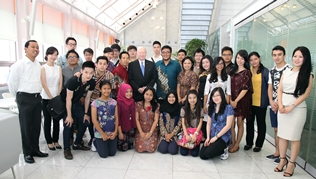 A group of twenty four (24) students and faculty members from the International Business Management Department, Ciputra University, Surabaya, Indonesia, participated in the 2014 Summer Immersion Program that we be held at SolBridge International School of Business, Daejeon, South Korea from June 15-21 2014. The purposes of the program are to learn about Korean business practices, Korean culture as well as to strengthen the collaboration between Ciputra University and SolBridge.
---
During the program the participants joined some classes at SolBridge such as Korean Language and Culture, Innovation and Management, and Korean Business Practices. In addition to those classes, they will also have an opportunity to visit Samsung D'light, Gyeongbukung Palace, as well Seoul Tower.
In the opening ceremony which was officiated by Dr. John Endicott, the President of Woosong University and Vice Chancellor & Acting Dean of SolBridge International School of Business, Damelina B. Tambunan SE., MM., the Head of International Business Management mentioned that this program with SolBridge will open the participants' horizons about Korea as one of the fastest growing countries in the world.