Do You Have a Service Mind?
Category : [2014]
|
Writer : 관리자
|
Date :
2014.06.05
|
Hit : 21,664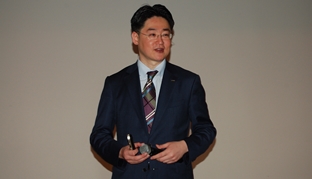 First-year Seminar students, the general student population and faculty were treated to a very special lecture by Mr. Chang-Geun Lee, Senior Manager of Lotte Hotel who offered insights into Lotte's success in the hospitality industry.
"There is no impossible," Lee said. "If you just move the apostrophe, you come up with 'I'm possible."
---
For over 76 years, that kind of wisdom has been the cornerstone of the Lotte Hotel chain. Since it started out as the Bando Hotel in Seoul, the Lotte Hotel has been a leader in the hospitality industry in Korea. To be sure, it is the best hotel representing Korea with a pure Korean brand, not to mention Korea's leading first class hotel. It also laid the foundation of all the hotel chains in Korea.
"Nineteen eighty-eight very important year for Lotte," Lee said. "The Seoul Olympics opened up the hotel industry in Korea.
Now Lotte has its sights on a global hotel chain and by the year 2050 envisions 1,000 hotels around the world. This year alone, two hotels are opening in Guam (June) and Hanoi (September) respectively. Other ongoing hotel projects include hotels in Chengdu Myanmar (Yangon) Nanjing, Kazakhstan, and Paris.
However, Lotte could not have achieved its global success had it not been for the challenges as well as obstacles the company faced when it opened its first international hotel in Moscow in 2010. One of the major problems involved what Lee called a "service mind" that many of the employees at the hotel lacked.
"How can I prepare to be a part of the little hotel family is a question I am often asked by students," Lee said. "Although language skills, a background in business or management are important, the most important thing is to have a service mind."
According to Lee, this service mind is an attitude—an attitude which one shows to customers which also reflects that person's warm heart. And it's this service mind attitude which translates into caring about people.
In order to overcome these challenges and obstacles, management went to work with service training to improve upon the service mind.
"The results of our efforts and out training worked," Lee said. "Our occupancy rates increased. It was a fantastic result. We earned a lot from the Moscow hotel."
Just how much that training paid off is evident in Trip Advisor ranking the Moscow Lotte Hotel number one since 2012.
Finally, Lee came full circle in his special lecture by reminding students that being successful in today's business world or the hotel industry, the measure of one's success starts with having the right attitude.
"The key to success is a service mind," Lee said, "and having the right attitude."