Congratulations to the Spring 2014 SolBridge Asian Case Study Competition Winners
Category : [2014]
|
Writer : 관리자
|
Date :
2014.05.25
|
Hit : 21,954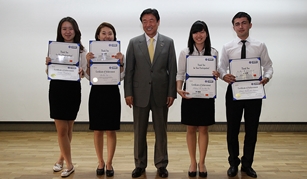 Following weeks of intense preparation and research, eight teams comprised of SolBridge and Woosong students went head to head with their Asian Case Studies: a pharmaceutical company in Vietnam and a fashion company in China.
---
The competition was intense as each team did their best with their case study. In the end four teams took the top honors: First Place: Ton Nu LanAnh, Jamilya Zhaxybayeva, Shokhrukh Jobborov (SolBridge), and Kim Ju-ri (Woosong); Second Place: Umidjon Turaev, Soohwan Kim, Boburbek Madumarov, Houssame Benaissa Houlbi from SolBridge; Third Place: Shu Zhu, Tan Wang (SolBridge) and An Jung-min and Lee Joo-hee (Woosong); and Fourth Place: Bakhtiyar Begenov, Xiang Cheng, Abdiashim Abdulla, Danat Tumabayev and Pesotckii Aleksandr from SolBridge.
Each of the winners received an airline ticket to Vietnam and China where they will do more research.
Our congratulations to all the participants and winners, and our thanks to the judges and faculty members who assisted.