SolBridge's Spring 2014 CEO Mentoring Program Kicks Off
Category : [2014]
|
Writer : 관리자
|
Date :
2014.03.23
|
Hit : 27,175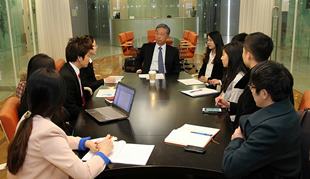 On Monday, March 17, 2014 the Spring 2014 CEO Mentoring Program got underway with break-out sessions for the mentors and mentees, an opening ceremony in the fourth floor auditorium, and finally dinner in the Sol Bistro
Young-Hak Lim, Myoung-Ju Kang, Il Jin Park, Bong Tae Yoon, Jong-Shik Kim and In Shik Kim are the six CEOs participating with twenty-five BBA and five MBA students participating in this semester's mentoring program.
---
During this mentoring program, students will get first‐hand experience learning from experts from top global corporations within Asia. They will gain a fresh insight into the responsibilities of being successful business leaders and managers enabling them to be better equipped to deal with real life business decisions in their future professions.