Woosong Festival
Category :
|
Writer : SolBridge
|
Date :
2015.10.27
|
Hit : 9,185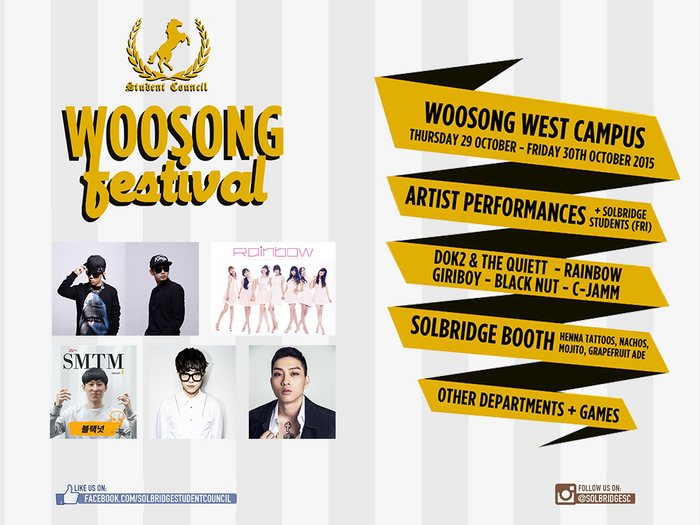 Dear SolBridgers,
Hope you did well with your midterms. If there are still going, we wish you best of luck!
*Woosong Festival*
-SolBridge Booth-
Thursday, October 29 ~ Friday, October 30
6PM ~ 11PM
Nachos
Mojito
Grapafruit Ade
Henna Tattoo
We are really happy to announce that finally we have Woosong Festival this week!
It is a great opportunity to experience Korean culture, have a great time with your friends, enjoy variety of food, drinks and perfromances.
Woosong Festival will take place near Woosong West Campus Green Field (parking) for two days - from Thursday, October 29, 2015 to Friday, October 30, 2015.
For two days almost every department of Woosong University will have their booth to sell some food, drinks, games and etc. Festival will start operating from morning, so you can drop by anytime you want. However, SolBridge booth will be open from 6 PM to 11 PM only, so do not forget to find us there.
*Woosong University invited some famous artists to perform during festival and we will also have our SolBridge students' performances on Friday, October 30, 2015 around 6 PM, so make sure you check them out!
Please make sure you do not go inside SolBridge booth during the festival since it can cause some difficulties for us in managing the event. We hope for your understanding!
Have a great week and see you there!