Sol-AGOTF
Category :
|
Writer : SolBridge
|
Date :
2015.10.05
|
Hit : 8,441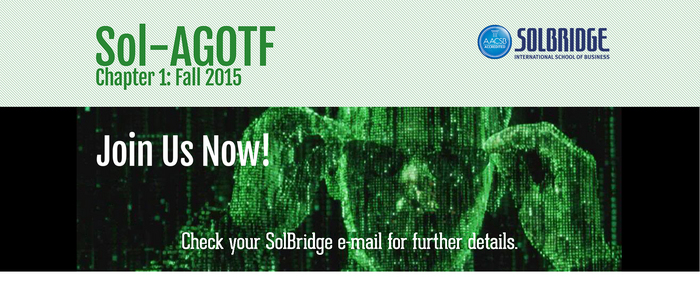 Our Vision:
"Asian Center of Excellence in Global Business Education"
Our Mission:
"Educating the Next Generation of Asian Thought Leaders"
Who is an Asian Thought Leader?
An Asian Thought Leader is someone with GACCS.
G: Global Perspective
A: Asian Expertise
C: Cross-Cultural Competence
C: Creative Management Foundation
S: Social Responsibility
Develop your Social Responsibility by giving back to the community.
Develop a spirit of service. Join the Sol-AGOTF!
Sol-AGOTF
SolBridge International School of Business is now accepting applications for the Sol-AGOTF, SolBridge's Anti-Garbage Operations Task Force. Develop your social responsibility by helping us keep our campus green and environmentally friendly. All interested applicants should sign-up in pairs of 2 using the link below by Wednesday, October 14, 2015, and must be available on the dates below for the garbage pick-up:
Friday, October 23, 2015 / 3:30-5 PM
Sol-AGOTF for SolBridge and Samsung-dong area
Friday, October 30, 2015 / 3:30-5 PM
Sol-AGOTF for Sol-Geo and Jayang-dong area
Friday, November 6, 2015 / 3:30-5 PM
Sol-AGOTF for all SolBridge one-room residences in the Woosong West campus area
Each pair must be composed of 2 SolBridge students from 2 different countries. The pairs who successfully pick the garbage on all 3 sessions will be considered for a W 200,000 scholarship per member based on their pair-work and continuous participation. A total of 20 SolBridge students (10 pairs) will be given out the award upon announcement on Friday, November 13, 2015. All decisions will be final.
To apply for the Sol-AGOTF, click the link below:
Thank you for your consideration. Have a great day!